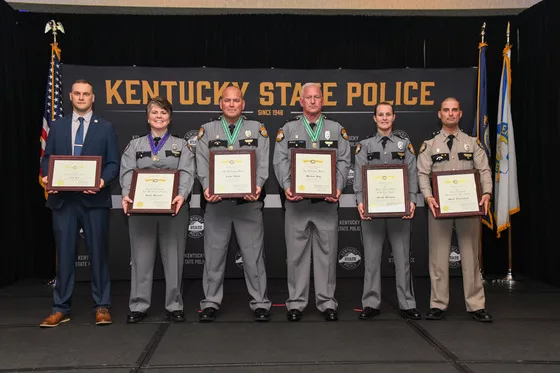 Kentucky State Police recently recognized eight Troopers and Officers at Post 1 Mayfield.
During the Kentucky State Police Sworn Award Ceremony honoring service for 2022, four year veteran Trooper Landon Stewart was named the Post 1 "Trooper of the Year".
Trooper Sarah Burgess was named "Public Affairs Officer of the Year", with eight year veteran Adam Jones named "Detective of the Year".
Trooper's Mike Ray, Lewie Dodd and Derek Scott all received the "Lifesaving Medal", with Detective Janet Barnett receiving the "Citation for Meritorious Service".
Master Officer Mark Townsend was honored with the "Commercial Vehicle Enforcement West Region" and "Commercial Vehicle Enforcement Officer of the Year".
A photo of the presentation has been posted on our website at thunderboltradio.com.